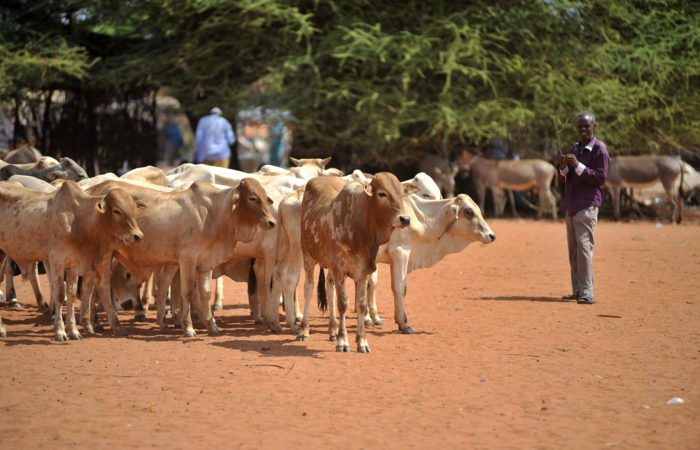 Experts share insights on science to deliver adaptation and mitigation in East African agriculture
"In East Africa, we are acutely aware of the consequences of climate change, with many parts of the region suffering from severe drought," said Iain Wright, Deputy Director General from the International Livestock Research Institute (ILRI) in his introductory remarks at the CCAFS seminar on Science to Deliver Adaptation and Mitigation in East African Agriculture. The research community faces the challenge of helping farmers and pastoralists cope with the increasing challenges of climate change, reduce vulnerability and increase resilience, and adopt a combination of new technologies, organizational arrangements and policy support, among others. Researchers also need to be aware of the impact of agriculture on climate change, through greenhouse gas emissions, and find ways to reduce emissions from agriculture.
The seminar, which was hosted at ILRI on May 30, 2017, created an opportunity for about 65 of stakeholders drawn from government Ministry of Agriculture and Livestock and Fisheries (MoALF), Climate Change Department of  the Ministry of Environment and Natural Resources (MENR), Ministry of Northern Kenya and Arid Lands, Non-Governmental Organizations such World Neighbours, SNV, Pan African Climate Justice Alliance (PACJA), Arid Lands Information Network (ALIN), African Academy of Sciences (AAS), East African Farmers Federation (EAFF) and scientists from CGIAR centers to share knowledge, learn from each other and build synergies on climate change adaptation and mitigation in East Africa.
The seminar covered three broad themes—Policy and engagement, Mitigation, and Science and parnerships for impact. Scientists from ILRI, the International Center for Tropical Agriculture (CIAT), the International Institute of Tropical Agriculture (IITA) and CCAFS gave insightful presentations on adaptation and mitigation initiatives in East Africa.
Watch the seminar recording:
 Continue reading here.