Todd S. Rosenstock¹, Mariana C. Rufino², Ngonidzashe Chirinda, Lenny van Bussel, Pytrik Reidsma, Klaus Butterbach-Bahl6,7
Abstract: Measurements of nutrient stocks and greenhouse gas (GHG) fluxes are typically collected at very local scales (< 1 to 30 m2) and then extrapolated to estimate impacts at larger spatial extents (farms, landscapes, or even countries). Translating point measurements to higher levels of aggregation is called scaling. Scaling fundamentally involves conversion of data through integration or interpolation and/or simplifying or nesting models. Model and data manipulation techniques to scale estimates are referred to as scaling methods. In this chapter, we first discuss the necessity and underlying premise of scaling and scaling methods. Almost all cases of agricultural GHG emissions and carbon (C) stock change research rely on disaggregated data, either spatially or by farming activity, as a fundamental input of scaling. Therefore, we then assess the utility of using empirical and process-based models with disaggregated data, specifically concentrating on the opportunities and challenges for their application to diverse smallholder farming systems in tropical regions. We describe key advancements needed to improve the confidence in results from these scaling methods in the future.
---
Table of contents:
9.1 Why estimate GHG impacts at whole-farm and landscape level?
9.2 Scaling methods
9.3 Using empirical and process-based models with disaggregated data
9.4 Conclusion
Author affiliations
References
---
9.1 Why estimate GHG impacts at whole-farm and landscape level?
9.2 Scaling methods

9.3 Using empirical and process-based models with disaggregated data
9.3.1 Empirical models

Besides poorly constrained emissions factors, an additional issue (and arguably most important) is limited knowledge of farm management practices (A in equation 1), which limits the use of empirical relationships and models to calculate fluxes. Many developing countries have poorly defined record keeping and reporting schemes about organic and inorganic fertilizer use, manure management, crop rotations and other activities, so there is limited information on the extent of land management decisions (Ogle et al. 2013). This adds another source of uncertainty (in addition to emission factors themselves). Valentini et al. (2014) reported that estimates of the extent of various land cover types in Africa can be from 2.5% to 110% different, depending on the data source, either using inventory sources or satellite imagery (Valentini et al. 2014). Other evidence from data collection methods suggests that the uncertainty in farm management practices is similar to that of emissions, 30 to 80% (Fig. 9.3, Seebauer 2014). New practices have been developed to help developing countries better represent the activities in their agricultural landscapes (Tubiello et al. 2013) and many institutions such as the US Environmental Protection Agency train government personnel in developing countries to cob compile inventories. However, problem with the data quality itself remains. Incentives to improve and standardize data collection and archiving efforts are limited.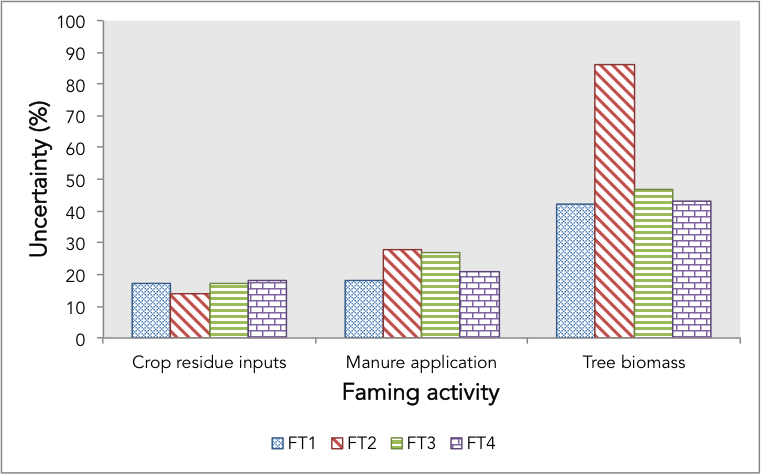 The accuracy of a process-based model is related to errors due to model structure (model parameter uncertainty) or errors due to the accuracy of data inputs (input uncertainty). Errors related to model structure are based on incomplete understanding and knowledge of the fundamental relationships that are driving GHG production and consumption processes in soils, variation in ways to describe underlying processes, and fluxes at the soil-atmosphere interface and the representation of them in the model. These errors can be quantified statistically by comparing the model's predicted GHG fluxes to measured GHG fluxes, with correlation coefficients for instance. Errors related to input uncertainty occur because the input data describing a particular system is not well known. This may be particularly problematic in developing countries when the detailed climate, soils, and land use data are not available at a high degree of resolution. Input uncertainty can be estimated using Bayesian calibration and Monte Carlo simulations (see for example Van Oijen et al. 2011; Rahn et al. 2011).
9.4 Conclusion
---
Author affiliations
---
References
Babu YJ, Li C, Frolking S, Nayak DR, Adhya TK (2006) Field Validation of DNDC Model for Methane and Nitrous Oxide Emissions from Rice-based Production Systems of India. Nutrient Cycling in Agroecosystems, 74, 157–174.
Blöschl, G. and M. Sivapalan (1995). "Scale issues in hydrological modelling: a review." Hydrological Processes 9(3-4): 251-290.
Bryan E, Ringler C, Okoba B, Koo J, Herrero M, Silvestri S (2013) Can agriculture support climate change adaptation, greenhouse gas mitigation and rural livelihoods? insights from Kenya. Climatic Change, 118, 151–165.
Colomb V, Bockel L (2013) Selection of appropriate calculators for landscape-scale greenhouse gas assessment for agriculture and forestry. Environmental Research Letters, 015029.
Duretz, S, Drouet JL, Durand P, Hutchings NJ, Theobald MR, Salmon-Monviola J, Dragosits U, Maury O, Sutton MA, Cellier P (2011) Nitroscape: a model to integrate nitrogen transfers and transormations in rural landscapes. Environmental Pollution, 159, 3162-70
Ewert F, van Ittersum MK, Heckelei T, Therond O, Bezlepkina I, Andersen E (2011) Scale changes and model linking methods for integrated assessment of agri-environmental systems. Agriculture, Ecosystems & Environment, 142, 6–17.
Ewert, F. (2004). Modelling changes in global regionalized food production systems under changing climate and consequences for food security and environment − development of an approach for improved crop modelling within IMAGE, Plant Production Systems Group, Department of Plant Sciences, Wageningen University & Netherlands Environmental Assessment Agency (MNP), National Institute for Public Health and Environment (RIVM).
Giltrap DL, Li C, Saggar S (2010) DNDC: A process-based model of greenhouse gas fluxes from agricultural soils. Agriculture, Ecosystems & Environment, 136, 292–300.
Haas E, Klatt S, Fröhlich A, Kraft P, Werner C, Kiese R, Grote R, Breuer L, Butterbach-Bahl K, 2013, LandscapeDNDC: A process model for simulation of biosphere-atmosphere-hydrosphere exchange processes at site and landscape scale. Landscape Ecol. 28, 615-636
Hickman JE, Scholes RJ, Rosenstock TS, Garcia-Pando CP, Nyamangara J (2014) Assessing non-CO2 climate-forcing emissions and mitigation in sub-Saharan Africa. Current Opinion in Environmental Sustainability, 9-10, 65–72.
Ogle SM, Buendia L, Butterbach-Bahl K et al. (2013) Advancing national greenhouse gas inventories for agriculture in developing countries: improving activity data, emission factors and software technology. Environmental Research Letters, 8, 015030.
Pathak H, Li C, Wassmann R (2005) Greenhouse gas emissions from Indian rice fields: calibration and upscaling using the DNDC model. Biogeosciences, 2, 113–123.
Perlman J, Hijmans RJ, Horwath WR (2013) Modelling agricultural nitrous oxide emissions for large regions. Environmental Modelling & Software, 48, 183–192.
Rahn KH, Butterbach-Bahl K, Werner C, 2011, Selection of likelihood parameters for complex models determines the effectiveness of Bayesian calibration. Ecological Informatics 6, 333-340.
Schils RLM, Olesen JE, del Prado A, Soussana JF (2007) A review of farm level modelling approaches for mitigating greenhouse gas emissions from ruminant livestock systems. Livestock Science, 112, 240–251.
Seebauer M (2014) Whole farm quantification of GHG emissions within smallholder farms in developing countries. Environmental Research Letters, 9, 035006.
Spencer S, Ogle SM, Breidt FJ, Goebel JJ, Paustian K (2011) Designing a national soil carbon monitoring network to support climate change policy: a case example for US agricultural lands. Greenhouse Gas Measurement and Management, 1, 167–178.
Thornton PK, Herrero M (2010) Potential for reduced methane and carbon dioxide emissions from livestock and pasture management in the tropics. Proceedings of the National Academy of Sciences of the United States of America, 107, 19667–72.
Tittonell P, van Wijk MT, Herrero M, Rufino MC, de Ridder N, Giller KE (2009) Beyond resource constraints – Exploring the biophysical feasibility of options for the intensification of smallholder crop-livestock systems in Vihiga district, Kenya. Agricultural Systems, 101, 1–19.
Tubiello FN, Salvatore M, Rossi S, Ferrara A, Fitton N, Smith P (2013) The FAOSTAT database of greenhouse gas emissions from agriculture. Environmental Research Letters, 8, 015009.
Valentini R, Arneth A, Bombelli A et al. (2014) A full greenhouse gases budget of Africa: synthesis, uncertainties, and vulnerabilities. Biogeosciences, 11, 381–407.
Van Delden, H., et al. (2011). "Comparison of scale and scaling issues in integrated land-use models for policy support." Agriculture, Ecosystems & Environment 142(1-2): 18-28.
Van Oijen M, Cameron DR, Butterbach-Bahl K, Farahbakhshazad N, Jansson PE, Kiese R, Rahn KH, Werner C, Yeluripati JB, 2011, A Bayesian framework for model calibration, comparison and analysis: Application to four models for the biogeochemistry of a Norway spruce forest. Agricultural Forest Met., 151
Volk M, Ewert F (2011) Scaling methods in integrated assessment of agricultural systems—State-of-the-art and future directions. Agriculture, Ecosystems & Environment, 142, 1–5.