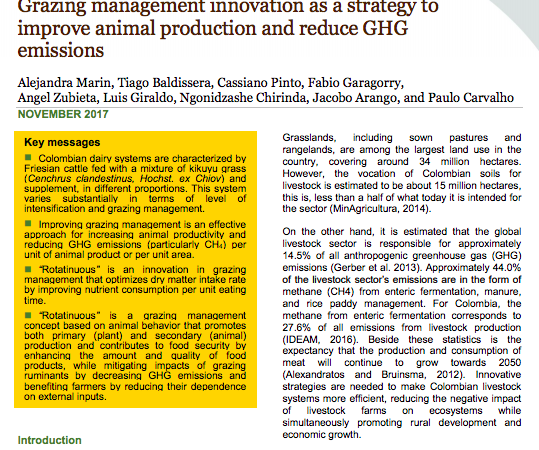 Colombian dairy systems are characterized by Friesian cattle fed with a mixture of kikuyu grass (Cenchrus clandestinus, Hochst. ex Chiov) and supplement, in different proportions. This system varies substantially in terms of level of intensification and grazing management.
Improving grazing management is an effective approach for increasing animal productivity and reducing GHG emissions (particularly CH4) per unit of animal product or per unit area.
"Rotatinuous" is an innovation in grazing management that optimizes dry matter intake rate by improving nutrient consumption per unit eating time.
"Rotatinuous" is a grazing management concept based on animal behavior that promotes both primary (plant) and secondary (animal) production and contributes to food security by enhancing the amount and quality of food products, while mitigating impacts of grazing ruminants by decreasing GHG emissions and benefiting farmers by reducing their dependence on external inputs.
Read the entire info note. This info note is available in both English and Spanish.