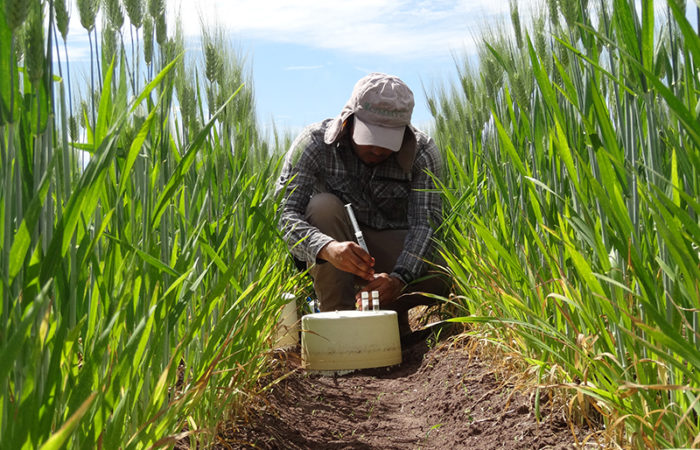 Seminal study on nitrous oxide emissions from fertilizer in large-scale irrigated wheat cropping systems shows that reducing nitrogen fertilizer rates significantly cuts emissions, without reducing grain yield or quality.
Farmers of irrigated wheat can increase profits and radically reduce greenhouse gas emissions by applying fertilizer in more precise dosages, according to a new study.
Published today in the journal Agriculture, Ecosystems and Environment, the study shows that farmers in the Yaqui Valley, a major breadbasket region in northwestern Mexico that covers over 1.5 times the area of the Mexico City, are applying significantly more nitrogen fertilizer than they need to maximize wheat yields.
Lower application of nitrogen fertilizer would cut the region's yearly emissions of nitrous oxide, a potent greenhouse gas, by the equivalent of as much as 130,000 tons of carbon dioxide, equal to the emissions of 14 million gallons of gasoline, according to Neville Millar, a senior researcher at Michigan State University (MSU) and first author of the published paper.
"Our study is the first to isolate the effect of multiple nitrogen fertilizer rates on nitrous oxide emissions in wheat in the tropics or sub-tropics," Millar said. "It shows that applying fertilizer to wheat at higher than optimal economic rates results in an exponential increase in nitrous oxide emissions."
Continue reading here.